"Children's Future Imagination and Creation Contest" – Production Process Interview #1: Team A & Team B
Hello, everyone!
This is Yu from MURAN 2022 web promotion team.
It's just over a month until MURAN2022.
"Children's Future Imagination and Creation Contest," the main event of this year's MURAN, is an event in which children's visions of "future mobility" are given concrete form through DENSO's technologies and skills.
In the previous article(→Link), I introduced illustrations by children, and in this article, I interviewed the production team at the production site in DENSO.
This time, I will introduce the Team A and B.
【Team A】 Fluffy(Fuwafuwa) Vehicle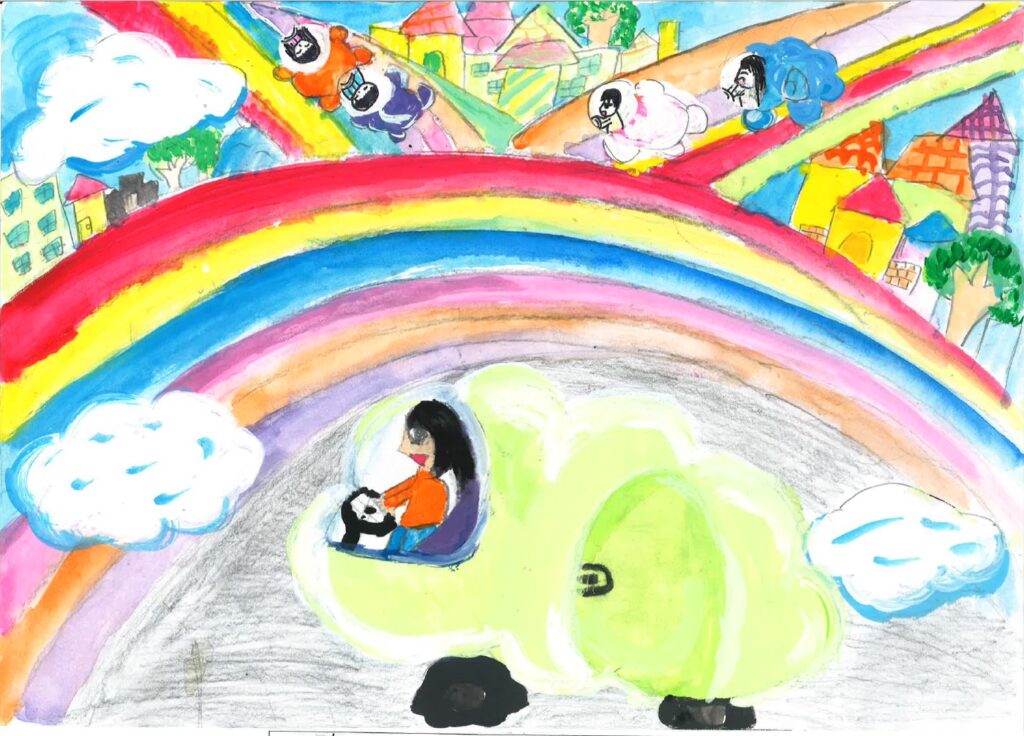 Illustration by Sara Hosomi (Fujimatsu Kita Elementary School)
I interviewed Mr. Mori of Advanced Testing & Evaluation Div., the production leader of Team A.
Q: How did you get involved in MURAN this time?
A: I heard about the Children's Future Imagination and Creation Contest, and I wanted to give shape to the world imagined by the children who will create the future.
Q: Tell me about the members of your production team.
A: We are a team of creative members with various skills and a passion for manufacturing. We have members who are good at video, electrical/electronics, and mechanical engineering, so I think we can make anything!
        Members: Mr. Mori, Mr. Fukuda, Mr. Fujiwara (from left to right)
Q: Please tell me about any points you are particular about or would like to express.
A: This work is a combination of a driving experience and a model of a fluffy car. For the driving experience, we initially considered using VR (virtual reality), but decided against it because people under 13 years old are not allowed to use it. Instead, in the production, we would like to devise a curved screen to provide an immersive experience. We would also like to add a game aspect to the driving experience, such as collecting items on the road to make the decorations light up and allow the driver to go to bonus stages.
        Driving simulator and video image
As mentioned in the comment by the creator, this work contains the desire to reduce the number of people who are saddened by accidents, so we are planning to use soft body materials to realize a car that will not hurt people or break even in a collision. We are trying to mold the material by 3D printer. We are going to decorate it from now, so please look forward to it.
Q: Finally, do you have a message for the originator of this idea?
A: From the interview and the illustrations, I could feel the kind nature of the originator and her fun future. We are also excited and enjoy creating the work when we are discussing ideas on
how to express the work and when we are producing it. Thank you for suggesting a fun future.
【Team B】 Rainbow Bubble Car
               Illustration by Haruki Takayama (Kinuura Elementary School)
I interviewed Mr. Hiramatsu of Advanced Monozukuri Creation Div., who is in charge of mechanical equipment in Team B.
Q: Why did you participate in MURAN this time?
A: The Advanced Monozukuri Creation Department usually participates in MURAN as a manufacturing team every year, and seeing the success of the people at our workplace, I wanted to be involved as well.
Q: Please introduce your production team.
A: We are proud to be a group of manufacturing professionals. Each member of the team works in collaboration with the other members, taking advantage of their respective areas of expertise.
From left to right: Mr. Sugiura, Mr. Fukuda, and Mr. Hiramatsu. (This is Mr. Fukuda's second appearance today!)
Q: What are your thoughts on the work?
A: I thought the abundance of ideas was wonderful. As an environmentally friendly car, we could not have come up with such ideas of using garbage as fuel and returning it to the soil when it is no longer in use. We received great ideas, so we will be happy if we can produce work that exceeds the imagination and expectations of the originators and impress them.
Q: Tell me about the production items.
A: The main components are the driving unit, the body and decorations, and the handle for operating the bubble car. The driving unit alone is already operational, so we will be working on the part that operates the driving unit while communicating with the steering wheel.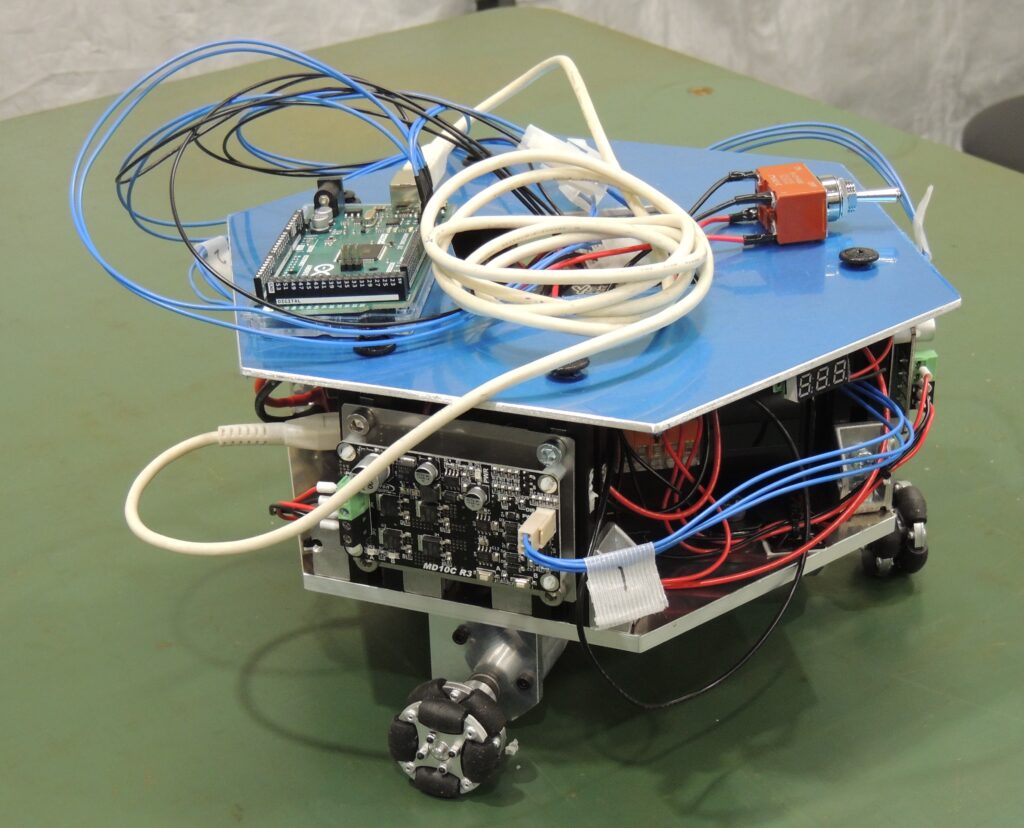 Driving unit
We plan to place the body on top of the driving unit, but we are having difficulty in making it round and spherical like a soap bubble.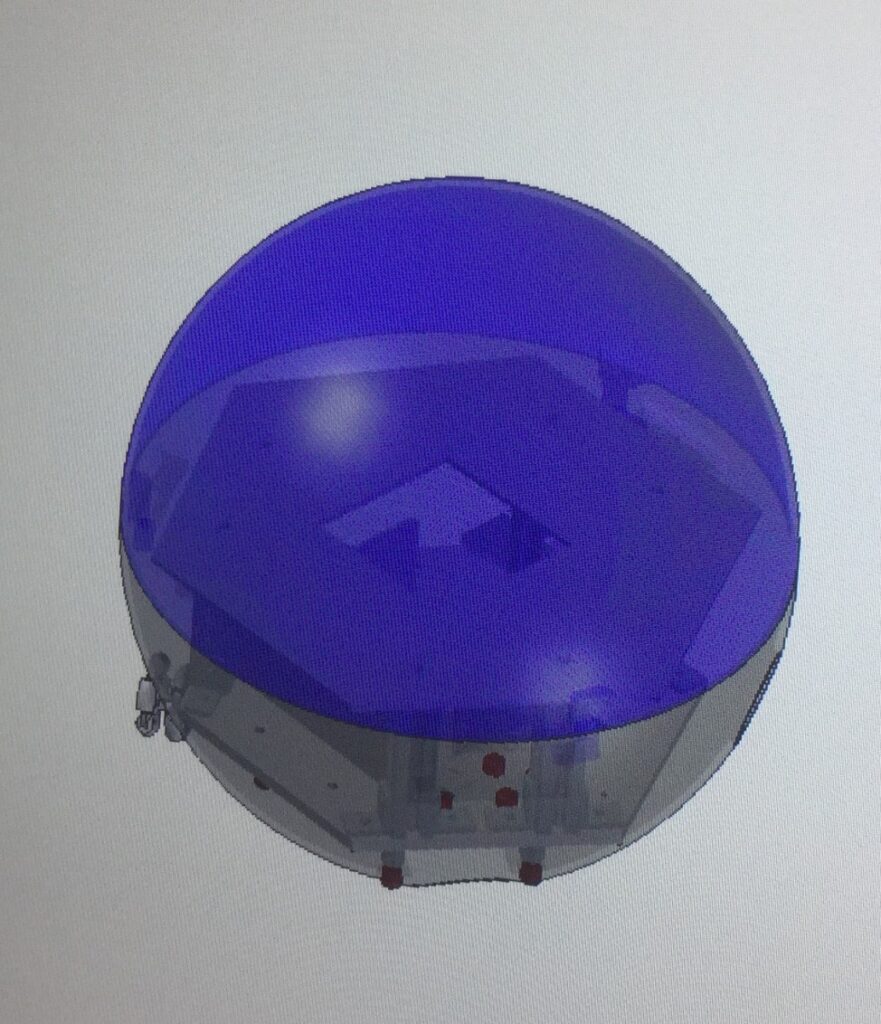 Spherical car body (drawing)
Q: Lastly, please give a message to the person who came up with the idea and to all the children who thought of it.
A: (Fukuda) "Thinking of ideas using your imagination is a skill that is necessary even as an adult. I look forward to seeing your wonderful ideas spread throughout the world, such as "I think it would be more convenient if we had something like this." "I came up with an idea that everyone would be excited about!"
(Hiramatsu) None of the ideas that you have come up with this time have been wasted. I think there is a lot of meaning in "thinking," so I hope you will all take this experience as a source of inspiration.
(Sugiura) If you remember to collect the small ideas that come to mind on a daily life, they will eventually become big dreams. Keep working hard toward that dream!
Today, I interviewed Team A & B from the Children's Future Imagination and Creation Contest, one of the centerpiece events of MURAN 2022! I can see the hard work that they have been doing, but little by little, they are steadily taking shape.
Stay tuned for our next interview with another team!
Posted by Yu.