Idea contest held on November 26 and 27, 2022.Introducing the highlights of the day of "DENSO MURAN 2022"!
In the event report 26-Nov Day-1, we introduced the outline of the event and the exhibited works of the technical meeting.In this event report 27-Nov Day-2, we will tell you about the second day, the 27th, and we will introduce the manufacturing experience corner, the works that participated in the contest, and the award ceremony.
On the second day, the weather was fine and the sun was dazzling!
Muu-chan and Ran-chan welcomed us on this day as well.

First of all, let's go to the corner where you can experience making things!
DENSO is a company that makes automobile parts, so we know the value of manufacturing.
By letting children know the joy of creating something with their own hands, we want to contribute to future technological development and children's future career choices!
With that in mind, we have set up a corner for making things together with people from external organizations.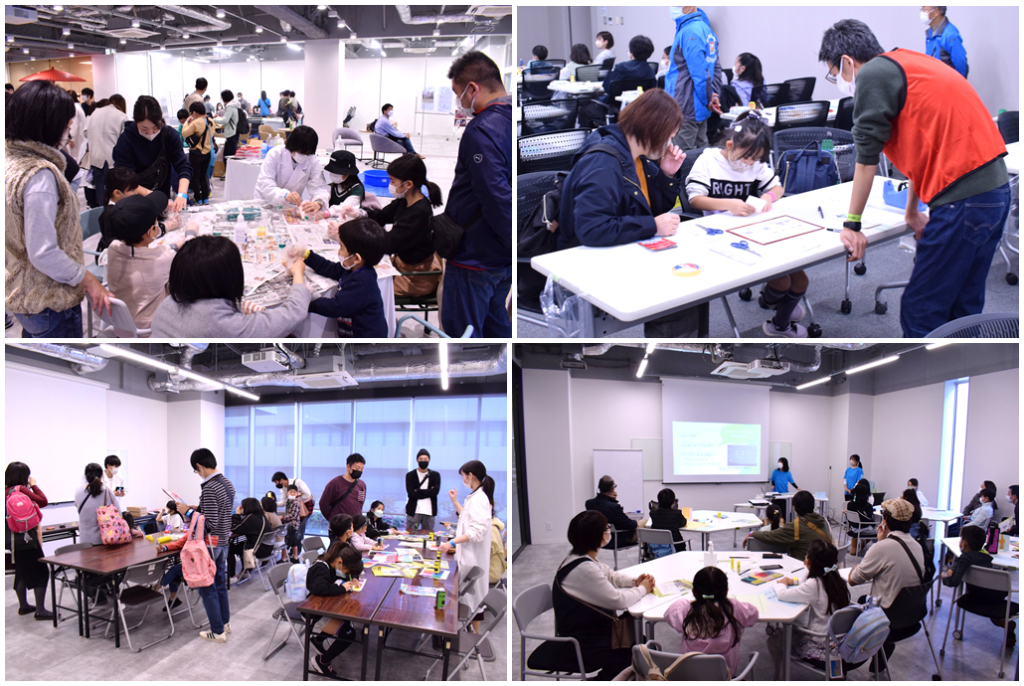 We have prepared an experience that is suitable for all age groups like paper crafts for toddlers, science experiences for elementary school students and programming experience for junior high school students.
The participants enjoyed an experience that they could not get in their normal life.
In this hall, the "Heartful Event" sponsored by the Denso General Affairs Department is being held.
"Heartful" is an event that contributes to world peace through DENSO's community contributions and volunteer activities.
I want people with disabilities and victims of war and disasters to get well even a little.
There were many exhibitions and sales booths by DENSO and local people with such thoughts!

The second day is when the grand prize work of the "idea contest" which is the main event of DENSO MURAN is decided.
In the main hall, we are appealing the thoughts and ideas put into the exhibited works!
The three divisions I mentioned in Report Day-1 are the works that have won in each of them. Each piece is unique and interesting!
Click here for an introduction to each work
■ Children's Future Imagination and Creation Contest (Link)
■ Software Idea Contest CHALLENGER Course(Link)
■ Software Idea Contest PROFESSIONAL Course(Link)

The number of votes for the idea contest works was tallied, and an awards ceremony was held in the afternoon.
This time it will be a hybrid event with real venues and online venues, and the Grand Prix will be decided by votes gathered from each venue!
What kind of work won the Grand Prix of the 16th Idea Contest?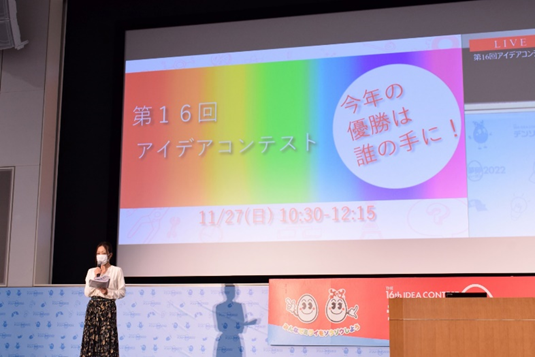 ◆  Children's Future Imagination and Creation Contest Grand Prix Entry
Title: Foldable EV
Originator: Yume Myodo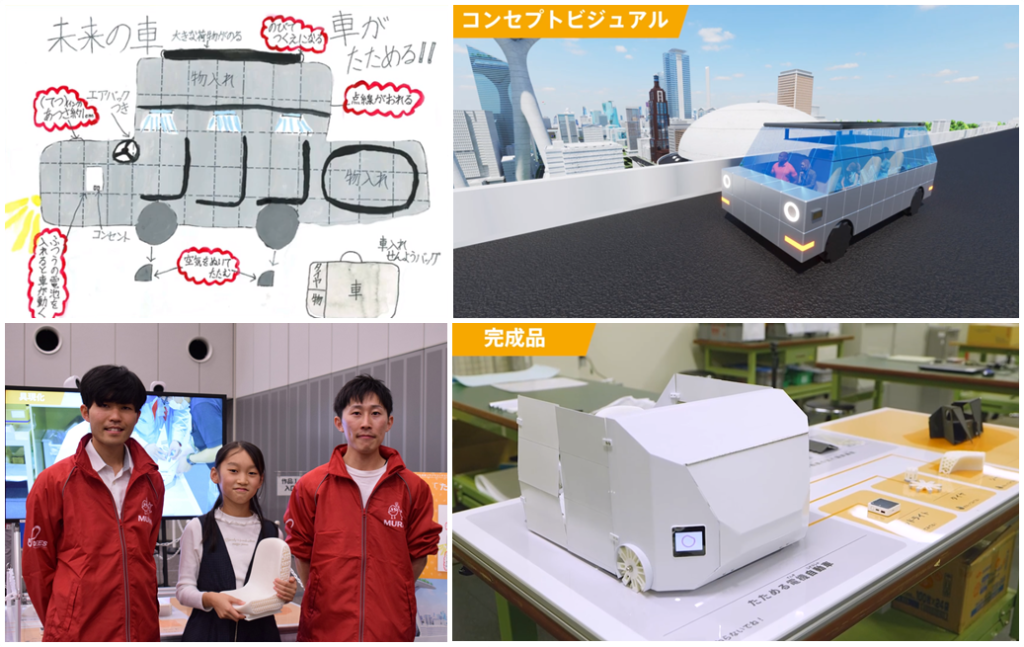 ■Work introduction
When you can't park due to congestion at your destination, you want to fold it compactly and carry it!
It is a work born from the idea. It is manufactured so that not only the body housing, but also the tires and seats can be folded.
■Comment from Yume
She was very happy to have everyone at Denso build the car she had imagined. I was surprised when the picture I drew turned into an actual shape, and  I thought it was really amazing.
■Comment from the creator
To make Yume's wonderful idea a reality, It was a lot of fun for us, and it was a unique experience. I was particular about folding things that could actually be made compact in the picture to make them smaller.
I am very happy that the work I made with Yume won the Grand Prix.
Yume received a certificate of commendation and "Nintendo SWICH" as a prize. congratulations!

Presenter: Comment from Masayuki Nonome, Kariya City Board of Education
I felt that the idea of convenience from the perspective of "let's fold a hard and heavy car compactly and carry it" was very original and wonderful. With highly sensitive children who can feel the wonder in their daily lives. I was also surprised by Denso's high level of technical ability to make ideas come to life.
◆Software Idea Contest CHALLENGER Course Grand Prix Entry
Title of work: Kanji Let's make a good robot!
Creator: Tatsuya Nakagi
*KANJI is pronounced like "feel" in Japanese. It's a double meaning with "KANJI" and "a comfortable feeling".
■Work introduction
This is a puzzle game that completes kanji by assembling kanji parts flowing on a conveyor.
With the hope that it will be useful for children who are learning kanji for the first time
The 80 kanji characters that first grade elementary school students learn are presented.
If you don't move well, the parts will fall, so calmness and accuracy are required.
■Comment from Mr.Nakagi
I made it with the hope that the children would be happy, and the children actually enjoyed playing with it.
And as a result, I am very happy to be connected to such an award.
Scratch, which I learned this time, is a programming language created for children.
Since I have many opportunities to participate in volunteer activities related to children, in the future, I would like to teach programming to children myself.

Presenter Norio Fujimori Comments from executives
With the phrase "Software First" representing the idea of using software to make cars more attractive, I am glad that we were able to take this opportunity to learn about programming, which we have not had much involvement in before, and to work together to create something new while helping each other!
◆Software Idea Contest PROFESSIONAL Course(Grand Prix, Special Jury Prize)
In addition to the Grand Prix, which was decided by voting, the Proficiency Course also offered a Special Jury Award, which was judged from the perspective of excellence in software utilization.
■The winner of the PROFESSIONAL grand prix
Title: VR Battle Drone
Production team: Flyaway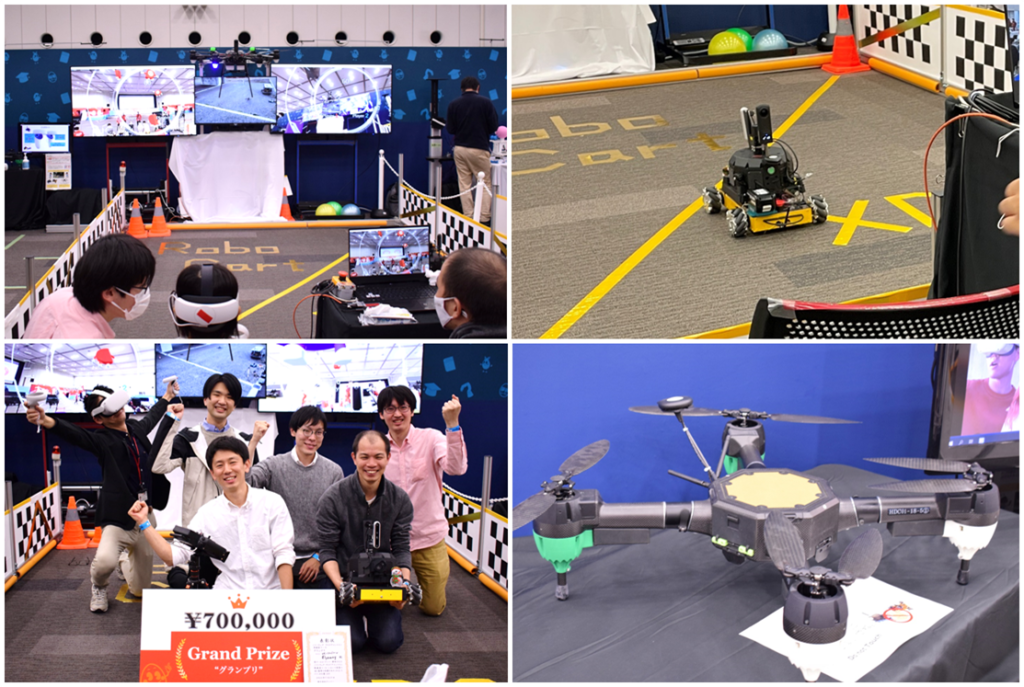 ■Work introduction
When you put on the VR goggles, there is a Denso drone and a car-type robot driven by drone software.
The view from above spreads out.
It is a shooting game that is divided into drones and cars, and competes for points by hitting the target one-on-one.
■Representative's comment
It was difficult to link the target in the digital world with the movement of the robot in the real world.
I am honestly happy that the work we have created as a team has been seen and recognized by many visitors and judges.
Especially when the kids finished the game and took off their VR goggles, they were happy with big smiles saying "It was fun!"
I thought it was really good to make it.
■Special Jury Prize
Title of work: Automatic Display
Production Team: Display Crusher
■Work introduction
This is a work in which a display is attached to an arm-shaped co-creation robot "Cobotta".
The display is placed in an easy-to-see position according to the movement and posture of the person.
A communication tool that adjusts the height of the screen according to the position of the other party during a video call.
It is a product that can be used in many ways.

■Representative's comment
I would like to express my gratitude to the members who worked day and night on the production.
And we are very happy that you appreciate the technical aspects that we have incorporated into our work.
During the awards ceremony, Executive Officer Yoshifumi Kato commented on the Software Idea Contest.
All the works were of a high standard, and I was surprised and felt that they were excellent.
I would like to ask the software professionals who created these works.
Please use various tools in the world to teach and help each other, so that you can respond to new development environments and technologies.
Also, I would like to contribute to the world by instilling in this company and society a culture of thinking about the extensibility of software that will lead to the future.
Congratulations to all the winners!
This page only introduces the works that won the Grand Prix and the Special Jury Prize in each category.
There are many award-winning works that could not be introduced here!
Congratulations to everyone for winning the award!
After the commendation ceremony, the finale will be reached with the declaration of Executive Committee Chairman Katabuchi.
We have been preparing for this event for over a year.
The executive committee worked together to make it a memorable event for me.
I hope that it will be a good event for everyone who is visiting.
We would like to express our gratitude to all the staff and visitors who were involved.
With this, we declare the closing of DENSO MURAN 2022.
Along with the declaration, golden tape flew around, and DENSO MURAN closed the curtain brilliantly!
The next event is scheduled for 2024, two years from now.
It will be an even more powerful event, so please look forward to it!
Thank you for watching! See you in 2024!