Idea contest held on November 26 and 27, 2022.
We will introduce the highlights of the day of "DENSO MURAN 2022"!
First of all, please take a look at the situation on the Day-1.
The slogan for MURAN2022 is "Let's Create and Imagine our Future"!
It means "Let's SOUZOU the future together." In Japanese, the word SOUZOU has two meanings: "imagine" and "create".
For quarantine purposes, a system has been introduced to count the number of guests who have entered the gates using QR codes on wristbands distributed at the entrance, in tents set up at each gate.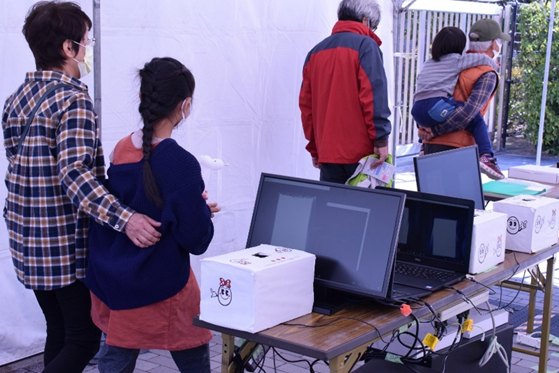 Mascot characters "Mu-chan" and "Ran-chan" welcome you.
They were very popular with the children and there were lines of people waiting to have their pictures taken.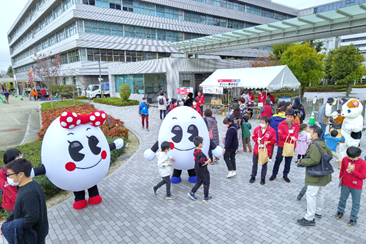 First, we moved to the main venue, the Event Hall. Being the central part of the contest site, there were a lot of visitors there!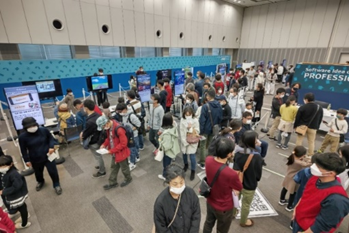 The online venue, set up for the first time this year to prepare for covid-19, was accessed by as many visitors as the real venue. At the real venue, the event stage was streamed in real time, as well as contest entries and exhibitors' thoughts and messages.Of course, you could also vote for the contest.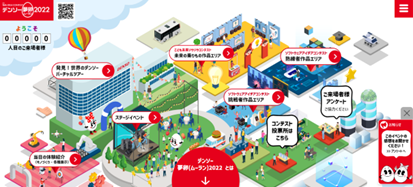 The event started with the opening declaration by Mr. Katabuchi, the chairman of the executive committee on the event stage.
In the conventional idea contest, about 50 "interesting ideas created by employees" were exhibited.The Grand Prix was determined by audience votes.
This year's Idea Contest was a new experiment. The teams competed against each other in the following three categories.
■ Children's Future Imagination and Creation Contest
The six works were selected from over 800 drawings of "future mobility" from children in Kariya City, where DENSO Corporation is headquartered, and from around the world, based on their dreams, creativity, and environmental friendliness. Denso's technology and skills were used to create the six works.
■ Software Idea Contest CHALLENGER Course
About 200 employees, novice software developers, entered the program and took a basic programming course beforehand. Divided into teams, they enjoyed programming and worked earnestly to create games and applications based on their own ideas.
■ Software Idea Contest PROFESSIONAL Course
This is a contest in which teams of programming professionals compete to update Denso's own products into new and valuable products. Using QR codes, which have become popular worldwide, LiDAR*, which is used in advanced safety systems, co-creation robots that support work, and drones that can inspect bridges with their unique flight control even in strong winds. The unique ideas of our employees have transformed them into VR games and new communication tools.
*LiDAR: Technology that uses laser light to perceive space
By having your favorite work vote, the Grand Prix will be determined from the number of votes obtained.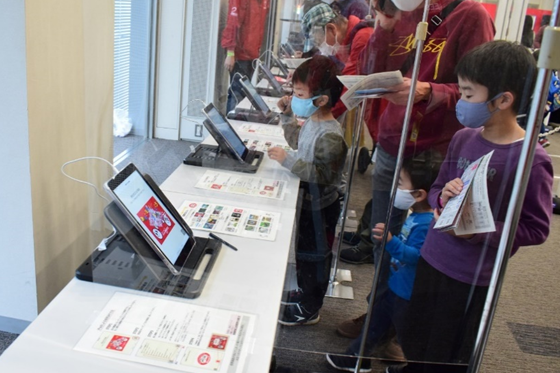 Let's move away from the main hall and take a look at the exhibition area of the DENSO Engineering Society (DEES).
DENSO has a volunteer group called DEES, and this DENSO MURAN is also sponsored by DEES.In addition to club activities (10 clubs) where enthusiasts of technology itself and natural science gather.The avant-garde creator group DMC (DEES Maker College) takes center stage on this floor.
The DMC 3D printer demonstration, the world's fastest micromouse (robot competition to quickly finish in a maze) and Blackbeard Crisis in VR, etc. were on display.
Going a little further, there was an exhibition booth for club activities.
The romance of flying, the virtual world, the five senses, brain science, art, astronomical mysteries…If you are interested, club activities etc. that do activities to try anything are gathered.
The results of their daily activities were on display, and visitors engaged in lively communication.
When you go outside, it smells delicious. It's just time for lunch.
A lot of kitchen cars gather in the company premises! It was a very lively place to relax after enjoying contests and exhibitions.

After passing through the kitchen car and eating space, there is a square called West Park. Here, children were exploring something with QR code scanners.
This seems to be playing a treasure hunt game using an RFID* reading terminal.
*RFID: Radio Frequency Identification
 This is a contactless data reading and writing technology used in unmanned cash registers and libraries.
You use your device like a radar to search for hidden treasures. It seems that this RFID technology is also handled by the DENSO Group!
In the afternoon, the "QuizKnock*" stage show was held in the event hall.
* QuizKnock: A knowledge group from the University of Tokyo led by Takushi Izawa, a Japanese quiz king, Youtuber, and talent
Due to infection control regulations, only those who were selected in the lottery for pre-registration and on-the-day application were allowed to participate, but through quizzes and workshops on Denso's social role and technology, Mr. Izawa and Mr. Sugai of QuizKnock* gave elementary school students the opportunity to think about the future world together!
After the stage show, many people enjoyed many contents of the day. The online venue will be open to the public until March 23, 2011, so please come visit us if you want to know more about MURAN.
https://virtual.muran.denso.com/
Next time, in part 2, we'll tell you about the second day of the event!